The day is finally here, when I am actually writing about my experience of Goa trip. Like every other Indian, me and my friends planned a Dudhsagar waterfall trip long back but all in vain. We heard and read a lot of reviews from people about Dudhsagar waterfalls in their Goa trip but still our trip was getting delayed. But leaving all the excuses behind, our bags were ultimately packed and we left for our voyage to Goa last month. And it was not a regular trip, we took our vehicle and went on a road trip to Goa. I will be sharing my experience of reaching Dudhsagar from Bangalore. Hope it is helpful.
The journey begins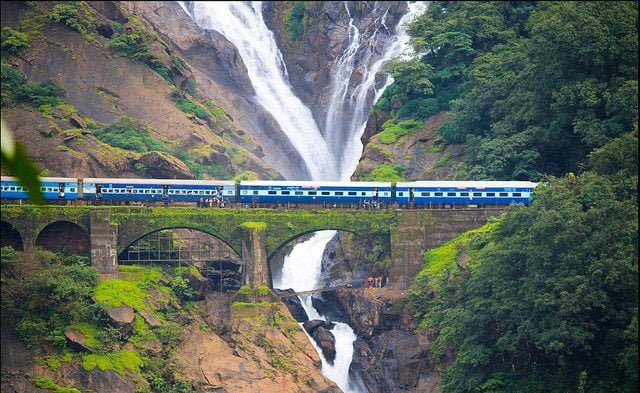 After reading and getting an idea about Goa and especially Dudhsagar waterfalls, we couldn't stop ourselves from making it our priority destination. So, we started early in the morning and reached Goa by late evening because we halted at a lot of places. We booked a hotel at Calangute because that's the hub.
How well Goa treated us
Calangute beach was just a 10 minutes' walk from our hotel. So next day morning, I forced everyone to get up and walk to the beach. Goa weather was amazing, just after the rain the beauty of Goa is extremely mesmerizing. We were hungry so we thought lets munch something before a heavy brunch, so we ate pao bhaji and omellete at a beach shack. And then we ran towards the very welcoming Arabian Sea. We swam and enjoyed for quite a while.
After having a lot of fun at the beach, we went back took bath in the hotel and left for Brittos, which is a very popular shack. The Goan cuisines were delicious. And this is how our stay in Goa continued. With chilled beers, sun, sea, sand, food and great company, what else does a Goa trip needs. Without wasting any time, the very next day, we left for Dudhsagar waterfall trip.
How to reach Dudhsagar from Bangalore

Covering a distance of almost 600 kms, from Bangalore to Calangute, it took us around 12 hours to reach. We of course halted at a few places for chai and snack breaks. And the drive was so scenic that I forced my friend to stop the car at a lot of places so that I get millions and zillions of pictures clicked.
From Calangute, Dudhsagar waterfalls is around 85 kms, which takes almost 2 and a half hours. Earlier we planned that we will directly go to Dudhsagar, but then there were some last minute changes. From Bangalore, Dudhsagar waterfalls is 548 kms which takes around 10 hours. But we though we will spend a night near a beach and have some experience of eating at shacks.
Our first ever trekking experience
First we reached Ramnagar in the morning. As our bookings were already done, we changed into comfortable clothes and ate our breakfast. From there we drove to Castle rock which is 35kms from there and it is also the starting point for trekkers. Our trek started at around 10.30. Our guide told us, we will have to cover 14 kms. It came as a shock as we city people already feel tired of hearing the term walking and this is trekking.
But when we started walking, the view around was so beautiful, that we were excited to reach the top. As difficult paths leads us to beautiful destinations, so we continued trekking with the fellow trekkers.
On our way, we saw a few waterfalls and that made us more excited thinking if these small waterfalls are making us so happy, what will happen when we see Dudhsagar falls. So finally after crossing the last railway tunnel, we got the first glimpse of the waterfalls and the sound of water falling was too loud.
We finally reached Dudhsagar Falls
After crossing the forest and all the tunnels, the view of the majestic waterfalls was pretty soothing. We explored the place and in the evening, there was a recreational activity of setting up tents. So we started doing the task. It was a bonfire night. So, you can very well imagine how the scene must be. Dudhsagar flowing with full force, bonfire, delicious food, noise of pure nature and good companions, everything was just like a fairy tale.
Next day at Spice Plantation.
Next day morning, we woke up and left for Ramnagar. At the hotel, after having breakfast, we moved back towards Panjim. While going back, we halted at spice plantation. This place was mentioned by a lot of people, so we thought why not visit. The place is peaceful and the aroma coming from the spices is amazing. After clicking a few pictures and eating at the restaurant, we moved further.
On reaching back Bangalore, to the noise and hustle bustle of city life, I really wish I get a chance to pack my bags and leave for Goa.
My experience of Goa and Dudhsagar trip was great and so I wanted to share it with all of you. I would suggest some points to remember to make your trip a comfortable one.
Carry comfortable clothes and shoes
Carry raincoats as you it might rain in Dudhsagar
Don't forget to carry a torch as it is quite essential.
Follow the map and the guide's instructions.
Make your hotel bookings prior to our journey.